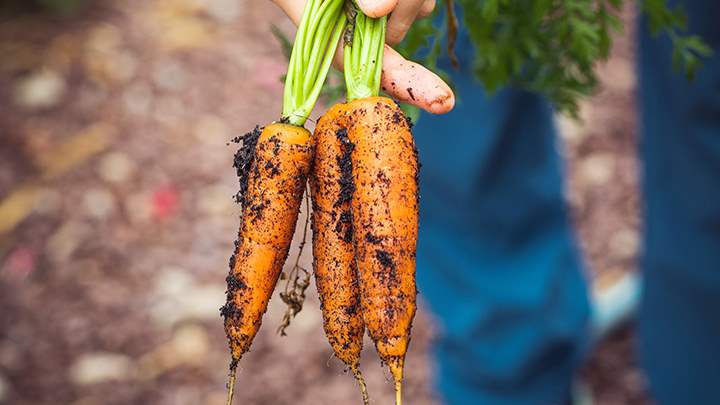 Grow your own fruit and veg
Our gardens have potential to store huge amounts of carbon, as well as help reduce some of the effect of climate change such as flooding, urban heat island effect and loss of biodiversity.
There are a number of small changes you can make in your garden to do your bit to tackle climate change and provide a safe haven for nature.
Soil
Gardening for carbon starts with healthy soil - anything to improve soil health and structure will increase carbon in the soil. Examples include adding peat-free compost, mulching around flower beds and trees, and reducing digging.
More information carbon gardening on the Resilience website
Plants and trees
When choosing plants and trees, here are some key considerations for a low-carbon garden:
Try and choose plants that will grow happily on your site and in the existing soil.
This helps avoid higher-carbon interventions such as synthetic fertiliser, and the frequent use of powered tools such as mowers and hedge trimmers.
Lawns
The RSPB has some great advice on their website for managing lawns for wildlife.
The easiest change you can make is to give your mower a rest! Long grass is one of the rarest garden habitats. By letting some or all of your lawn grow you will make space for many plant and insect species. Mowing the lawn only once every four weeks gives 'short-grass' plants like daisies and white clover a chance to flower in profusion, boosting nectar production tenfold.
If you have space and a bit more time, why not turn part of your lawn into your own mini wildflower meadow? Meadows are a haven for insects, birds and small mammals