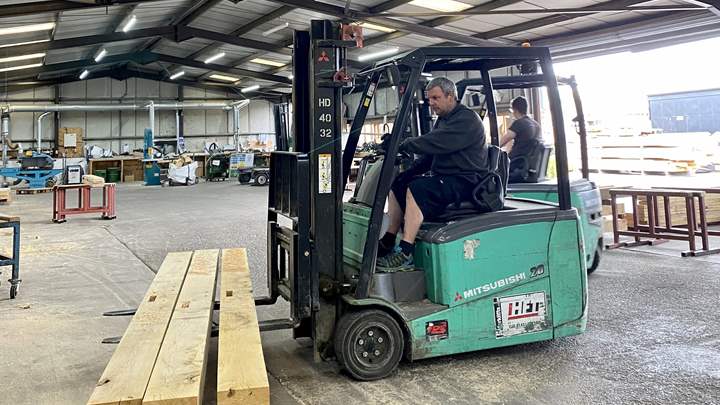 Border Oak: Sustainable house building in rural Herefordshire
Who
Established in Herefordshire more than 40 years ago, Border Oak is a family-owned business which specialises in the design and construction of bespoke oak-framed buildings. The award-winning team also creates self- and custom-build plots, fully serviced with planning to help people realise their own dreams of sustainable rural life.
From manor houses to garden studios, Border Oak has designed and built timber framed buildings for clients across the world – from Belgium, to the USA to Japan. Its projects have featured on Grand Designs and inspired thousands of self-builders to consider using renewable construction materials.
Steps taken
Sustainability is already at the heart of Border Oak's business. It is one of only a handful of UK construction companies who are fully FSC and PEFC certified for the supply of timber, in addition to their own ethical procurement policy, a certification which it has maintained for more than ten years. Using oak and timber means the buildings constructed by Border Oak sequester carbon in their frames and are low embodied energy and ultimately recyclable. They are also designed to be super insulated and use natural materials with adaptability and longevity designed in.
Some examples
The company runs a low-energy office and workshop, with heating supplied by an air source heat pump, with LED lighting. It has replaced its fleet of company cars with electric vehicles and uses eco-friendly cleaning products. The company has recently purchased a heritage orchard and biodiversity land as part of long term a farm ecological diversification project.
Journey to net zero
Border Oak is actively looking for ways to reduce its carbon footprint even further. Its next step will be to switch the remaining forklift to have a full electric fleet – a move that will save money in the long run through reduced fuel costs, as well as bringing an immediate improvement to the working environment by eliminating emissions. Construction of a carbon-neutral welfare unit is also underway to provide new staff training facilities plus showers for cyclists to enable sustainable travel.
In their own words
"Low impact living and working has always been important to us," says Creative Director, Merry Albright. "We are keen to see how far we can take it. We are very fortunate that we work with natural materials and have a low energy workshop, but there is so much more we want to learn and change. With the right mind-set, we think that net zero must be possible."
Watch this space to see how they get on.