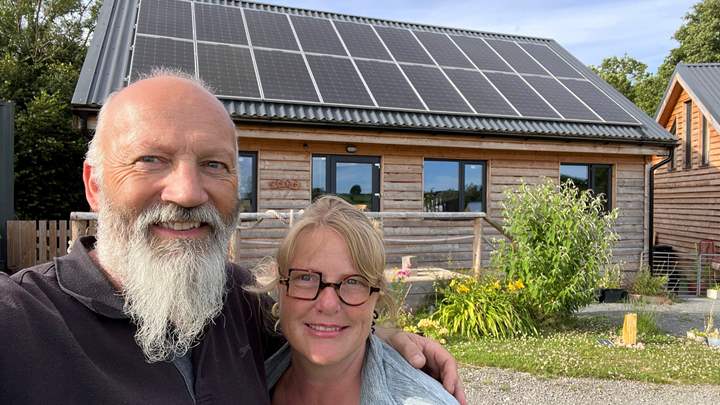 Cwtch Cabins and Camping
Who
After many years of family camping and caravan holidays in Wales and France, Ruth Rennick and her husband James decided to turn their dream of running a campsite into a reality. They set up Cwtch (pronounced 'k-utch') Cabins & Camping in Much Marcle, near Ledbury, just two years ago, with sustainability as a core principle from the start. The 'back to nature' campsite offers cabins, shepherds huts and tent pitches.
Steps taken
The site is off grid for everything except water, so it runs totally on green energy. Ruth is working hard to minimise waste and to buy second hand, rather than new, products where possible. In addition, products bought for cleaning and consumption are ethically sourced with consideration from every 'earth-friendly' angle before purchase.
Some examples
Hot water for the campsite showers is heated by a solar thermal system. A reserve supply is provided by solar photovoltaic panels linked to immersion heaters.
The campsite has reduced waste by eliminating paper hand towels from the shower blocks. After consultation with campers about the use of hand driers (deemed too noisy) they are now asking guests to bring their own towels and providing washable face flannels for those who forget.
The site office and reception area were kitted out with second-hand furniture and reclaimed floorboards.
Ruth grows her own produce on site and sells homemade goodies to visiting campers.
Planting on the site is all about encouraging bio-diversity and pollinators with about half of the land wildflower and grassland which is only mown off once a year. Native hedges and trees have also been planted to encourage bird life.
The impact so far
Being off grid, the campsite already has a low environmental impact. Their recent switch to reusable flannels will save 100 bags of waste from landfill every year. The planting and created pond means that the insect, amphibian, small mammal and bird life has increased hugely in just the two years that the site has been operating. Ruth and James also hope that some of the steps taken at Cwtch Cabins & Camping will rub off on guests even if it is just small changes made at home.
Journey to net zero
Ruth is passionate about sustainability and always looking for more ways to reduce the campsite's carbon footprint. Her next project is to work out a water catchment system that can share the water runoff between the pond and a system for watering plants and vegetables.
Why they signed up
Ruth and James signed up to join the 30 for 2030 and to support Greener Footprints as they truly believe that any action is better than none and those that can do more to address the climate crisis must do so to mitigate those that can't.
In their own words
"We have always been very environmentally conscientious and when we created the opportunity to build new there was no excuse NOT to be off grid and sustainable. I hope that our footprints are small and we strive to make it so."