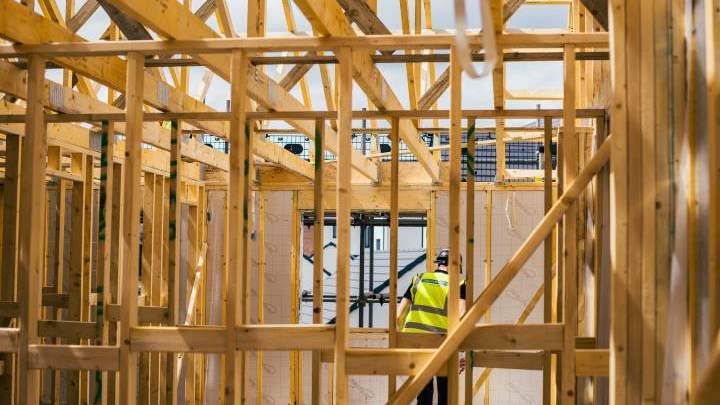 Taylor Lane
"As an industry if we're to reduce our footprint it's also about where you get materials, how you transport them, how you minimise waste…it's about so many things…"
Who
Taylor Lane, one of the UK's leading timber frame construction specialists whose headquarters are here in Herefordshire. Colin Taylor and Barrie Lane started the company in a small factory unit in Hereford some 40 years ago. The company grew to have two huge factories and a head office on Hereford's Rotherwas Industrial Estate, with a further office and factory in Nantyglo, Blaenau Gwent. They now design and manufacture timber-based systems for sectors such as self-build, housing, education, care homes and student accommodation. 
Why they signed up
The timber frame is, by its nature, energy efficient so they started with a carbon neutral product – wood imported from sustainable and managed forests, all with FSC and PEFC accreditation. "The timber used in construction captures more carbon than it emits and also generates a lower carbon footprint during manufacturing than other construction materials like steel and concrete," says Taylor Lane's Rebekah Bishop. "We know, too, that the thermal performance of timber frame results in lower emissions over the entire lifetime of the build, with less need for heating during winter months."
But Taylor Lane know the built environment contributes to around 40 per cent of the UK's carbon footprint and that businesses within the construction industry have a particularly large responsibility to ensure a shift towards a low-carbon pathway.
"We know that the processes in construction are not as green as the timber we use," says Rebekah. "It's these processes Taylor Lane want to review and bring into line with our net zero ambitions as one of the 30 for 2030 companies. We've created a Social Responsibility Team with employees from across all departments and factories who are, together, committed to making this happen."
Steps taken
They've fitted solar panels on the roof, switched their company and sales team cars to electric, and hope to move their fleet of lorries the same way as they're due for replacement. They also utilise Herefordshire's Pedicycle to collect and recycle office waste and they have a bike at each of their bases (which are a mile or so apart) for staff who need to move around sites during the day. This eliminates the previous need for short car journeys. Waste is a huge issue in the sector so the company now reuse and recycle their waste, for packing or heating the factories for example. Rebekah also signposts how technology that is being developed for the industry supports sustainability - tools like their automated (and efficiency driving) new cutting machine from Hundegger. Synchronised with their internal drawing office, the built-in software delivers fast and precise cutting technology to improve timber yields, optimise cuts and reduce wastage. The company is also bringing in experts this year to analyse and help reduce their carbon footprint.
"We love the 30 for 2030 initiative and the opportunity it gives us to work with other businesses from other sectors locally – organisations who all share the same ambition and can learn from each other."
In their words
"We would love to see more timber used in construction to help decarbonise it. You are basically building with carbon that has been captured in the wood and is locked away instead of using traditional materials that require large amounts of CO2 during production," says Rebekah.
The timber comes from sustainably managed forests, so more trees are planted to replace those felled. "But we are part of an industry that doesn't always have that choice," adds Rebekah. "We need roads and hospitals and schools, and they can't all be made of timber. So as an industry if we're to reduce our footprint it's also about where you get materials, how you transport them, how you minimise waste…it's about so many things.
We are glad to see Government targets putting pressure on us and pushing eco-friendly options, encouraging everyone in this sector to make a change. And while we're developing buildings that are more environmentally friendly (in the way they're built, heated and insulated) we can invite those who live or work in them into this conversation. They can think about how they use them in the future and ensure we're all working together to make a difference."