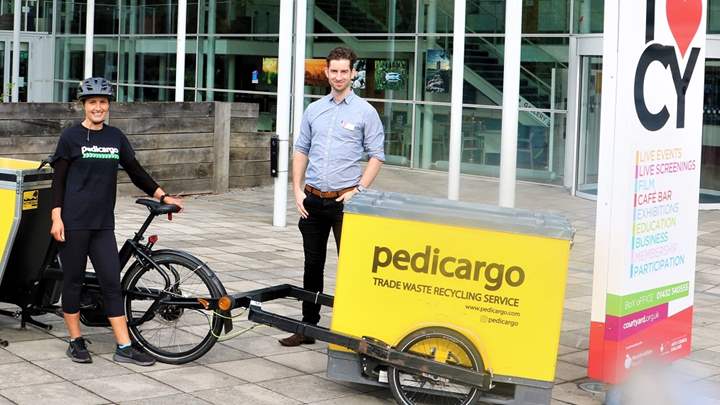 The Courtyard Arts Centre
Who
Based in central Hereford, The Courtyard is Herefordshire's centre for the arts and a registered charity. The venue hosts a wide range of shows, films and community events as well as providing meetings spaces, a shop and an award-winning café. It opened in September 1998 and now attracts over 250,000 visitors every year from across the UK.
Why they signed up
The Courtyard has a long-held commitment to sustainability and took the first steps towards reducing its carbon footprint more than ten years ago, starting with small changes such as switching to low energy LED lighting and introducing environmental reporting measures. The venue invested in its first array of solar panels in 2015.
Many of these early changes brought clear commercial benefits but more recently, sustainability has become one of the Arts Council's key investment principles and therefore essential for the theatre's financial survival.
Steps taken
In 2018 The Courtyard joined forces with other arts and cultural organisations in the UK to declare a Climate and Ecological Emergency and stepped up its own efforts even further, setting up a dedicated sustainability sub-group to get all areas of the business involved. This led to the introduction of new measures including a zero waste to landfill policy, rolling out green riders to visiting companies and installing Smart Water Management Systems across the building. The venue also introduced free parking for community car clubs in addition to ample cycle parking.
The team has benefitted from training from Julie's Bicycle, an Arts Council organisation that specialises in sustainability (and offers some excellent free tools to help creative industries record and measure their impact). Peer exchange with other arts centres on environmental issues has also proved valuable.
Journey to net zero
It's clear that the venue's Operations Manager, Phillip Pearcy, has a real passion for the environment and continues to spearhead the organisation's long-term transition to net zero.
He has recently set up an innovative partnership with PediCargo to transport food waste by bike rather than lorry – even more challenging than it sounds because waste must be carefully separated to avoid contamination and collected daily to keep the containers to a manageable weight. The service started in October and has saved 20,000 miles of travel already. The Courtyard is also encouraging the cast and crew of visiting productions to use Beryl bikes (rather than cars) to get to and from the theatre and plans to work with the council to offer EV charging facilities.
Additional solar panels were installed last month, fully funded by the Theatres Trust and Marches Renewable Energy Grant Scheme, providing an additional 10% of the building's annual electricity needs free of charge and free of emissions. This means total onsite solar generation now accounts for around 20% of the theatre's annual consumption (and there are times during daylight hours where the whole building is running on 100% onsite renewable solar power). The Courtyard team plan on making further savings by converting stage lamps and light fittings to LED once they have secured the necessary investment and overcome the technical hurdles of changes to backstage electrical infrastructure.
Phillip is also looking at putting beehives on the roof – look out for The Courtyard's own honey coming to the theatre shop sometime soon! Chemical-free cleaning products and carbon literacy training are also high on the agenda.
In their own words
 "It's a marathon not a sprint," says Phillip. "We've got an ambitious target to reach net zero but it's not going to happen at the push of a button. Small steps like changing lightbulbs might seem insignificant but it's the start of the journey. We've made huge progress over the past ten years and we know we can go further.
"We're hugely excited to be part of the Greener Footprints campaign and look forward to pooling our resources with other businesses to tackle climate change together."