Getting Herefordshire to net zero and nature rich
Herefordshire context
Herefordshire is considered to be the West Midlands' most rural county.
The county has rich biological and geological diversity which is becoming increasingly vulnerable to the effects of climate changeLarge-scale, long-term shift in the planet's weather patterns and average temperature.
Significant areas of Herefordshire are low-lying and liable to flooding. Climate change will further increase the risk and events of flooding (including flash flooding) across the county. Additionally, climate change will result in a loss of biodiversity and landscape character, together with an impact on agricultural practices leading to increased water demand.
The aim of the project is to plot a pathway to net zeroBalancing the amount of emitted greenhouse gases with the equivalent emission that are either offset or sequestered. for Herefordshire. However, this is a complex task with lots of interdependencies. Allocating an accurate CO2 reduction figure next to every action at this stage is therefore very difficult. More work will be required across every area to achieve this. It is expected that the first steps on the pathway will be to further investigate the potential savings for each of the proposed actions. For now figures used are indicative and are intended to demonstrate potential pathways rather than an absolute, accurate map.
Where are the emissions coming from?
Since 2005, Herefordshire Council has been using data provided by government to report carbon emissions from the county. Over this time we have seen a 32% decrease in emissions. This carbon footprint represents a territorial-based footprint, which is based solely on emissions from energy use in the county.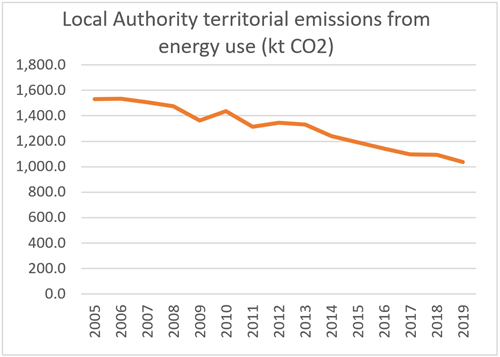 It therefore does not include emissions from non-energy sources such as methane. The Herefordshire Climate and Nature Partnership has agreed to widen the measured footprint to include a new set of emissions including those from agriculture. Whilst this significantly increases the size of the county's footprint, it does better reflect the situation. We will be using this new footprint to measure progress moving forwards. 
Tools are now available to enable the accurate inclusion of the wider range of emissions including methane. This "basket" of emissions is often referred to as CO2e (or CO2 equivalents). Unfortunately, due to the slight differences in the methods used to calculate the footprint, they are not directly comparable. Using this new method, we can calculate that the CO2e footprint of Herefordshire is 1,998kt. This is still a territorial footprint and therefore does not take account of emissions associated with the consumption of goods and services made outside of the county. The footprint highlights the importance of looking at agriculture, transport and buildings as the largest contributors to the county's territorial carbon footprint.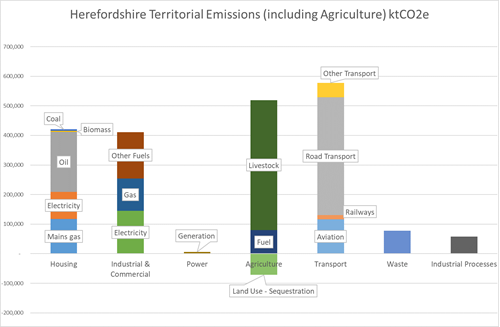 We have also recently looked at Herefordshire's consumption emissions. This footprint is largely based on the choices people make, and how people in Herefordshire choose to live their lives. They include emissions from things that are produced outside Herefordshire, but consumed within the county, such as almost all of their food, clothing, appliances, as well as other services they use such as financial and banking services. It gives a different view of the county's footprint, which will help to develop community level actions to tackle them. The average household consumption emissions in Herefordshire is 17.8t CO2e per year, which compares to the national average of 13.1t. This is primarily due to the rural nature of the county with more oil-fired heating systems, and generally poorer access to public transport. Understanding this data will enable projects to be developed to target reducing emissions from these areas. In this case, the largest contributing factor is the purchase of goods and services. Behavioural change activities will be required to tackle emissions from these sectors.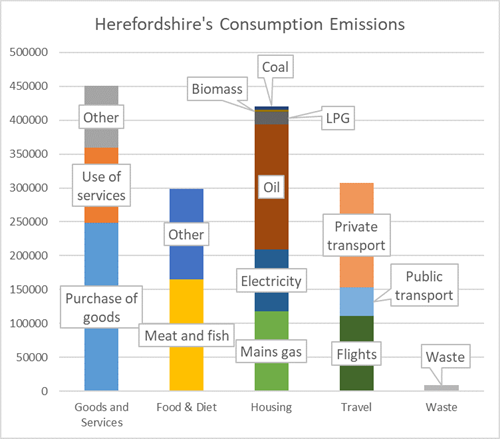 To achieve net zero everyone must first reduce emissions by cutting back on unnecessary actions. In all sectors the approach first looks to reduce the current energy demand. However, in order to meet net-zero targets, significant changes to buildings, transport and industry are also required. As more uses are found for clean electricity, overall electricity demand will increase. This will put additional pressure on the network that distributes electricity to our homes, which in Herefordshire already has very little extra capacity.
Buildings will also need to be retrofitted to lose less energy and over the next decade nearly all new cars and vans as well as boiler replacements will be low carbon, primarily electric. Technology will be used to generate clean, renewable energy before finally the remaining emissions are offset by increasing coverage of woodland.
Please take a look at the Action Plans as a starting point. They include key actions over the coming years to kick start the process, they may even set a vision for net zero but they are not a complete pathway to net zero. To get there we need you - every individual, community, school and business has a part to play. The plan is a live, iterative document and there will be lots of opportunities to contribute to its development over the coming years. This is just the starting point.