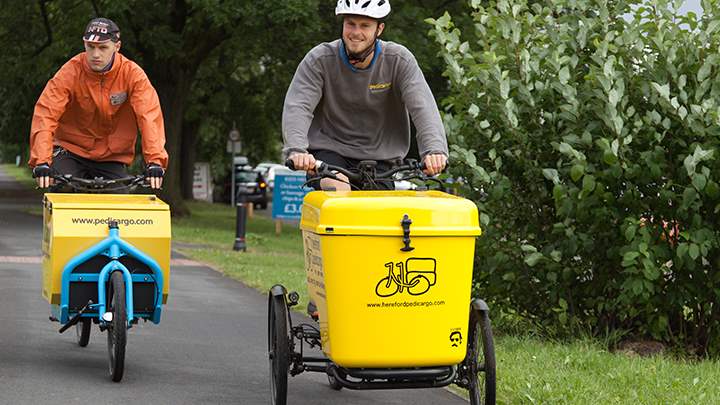 Carbon free deliveries
Online shopping has hugely increased in popularity over recent years, especially during the Covid pandemic. But there is a significant carbon impact associated with having an item delivered directly to your door. Free delivery may seem like a great incentive but it doesn't factor in the environmental costs of vehicles delivering small quantities of items all over the place.
Alternative options 
Pedicargo offer an alternative delivery option to businesses in the city. They deliver by cargo bike thus removing all, or a significant chunk, of the emissions associated with delivery. They also offer trade waste recycling, advertising and pedicab hire. Find out more

 

Hereford Pedicabs.
Shop locally, especially if you can get to the shop and carry your purchase by walking or cycling with it. See the

 

Love Local Map

 

on the Herefordshire Council website to find some of the local shops near to where you live.
Be patient and consolidate orders into one delivery. Electing to use a nearby collection point, rather than delivery to your door reduces emissions as couriers can take lots of items to one place. Then, fit the collection of the items into another trip rather than making a special journey.
If you don't need same or next day delivery, don't select it. Just use standard delivery times.