Get ready for Greener Footprints week!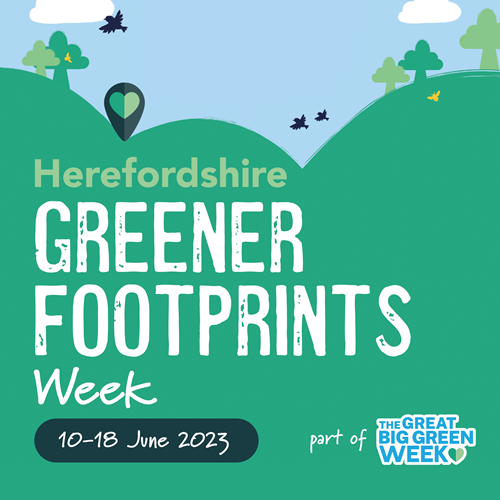 From 10-18 June we're holding our first ever Greener Footprints Week in Herefordshire, as part of Great Big Green Week – and we would love for you to get involved! The week is all about doing what you can for the planet, whether that's through the conversations you have with family, friends and colleagues, how you travel to work or school, or through what you eat throughout the week. You might choose to engage with one of the activities listed on this page, or check out what else is happening in Ledbury and other places around the county!
Are you doing something to celebrate in your community or workplace? Maybe you're hosting a litter pick, or joining a plastic free picnic? Get in touch and let us know what you're doing so we can help publicise your event. You can also add a listing for free and search for events near you on the Great Big Green Week website.
Can't attend any events? You can take Greener Footprints week home with you! Why not take a look at some of our tips on living more sustainably to see what you can do during the week and beyond.
Celebrate the week on two wheels with Beryl!
Saturday 10th June - Beryl users can get 20 free minutes on rides that end The Courtyard, or the two Blackfriars bays, between 4 - 5pm to get you to the Plastic Warriors film screening. This will be applied automatically to applicable journeys.
The Beryl women's tour is also in Hereford on Saturday 10th! You can sign up for free here - attendees will also recieve a free 200 minutes to continue the adventure.
Saturday 10th - Sunday 18th June Beryl users can get 10% off minute bundles with the code GREENFW.