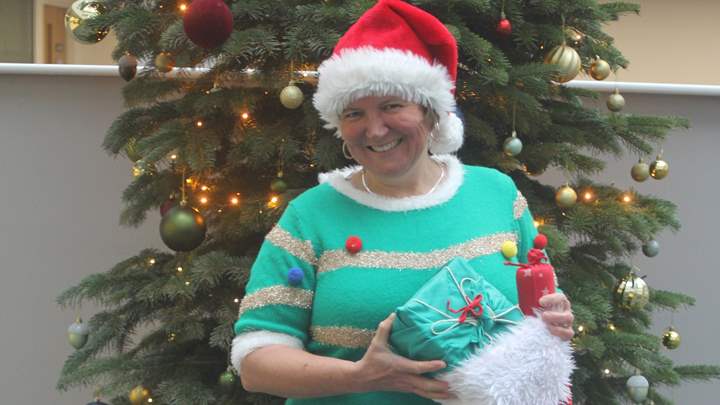 Less waste, more magic: Guide to a greener Christmas launched
Tuesday 6 December 2022 9.19am
Greener Footprints Herefordshire has launched a new guide to enjoying a more sustainable Christmas, packed full of great ideas for reducing waste – and saving money.
The guide includes 25 tips for gorgeous gift ideas, seasonal decorating, waste-free wrapping and new family traditions that won't cost the earth. It is designed to inspire a new way of thinking as people countdown to Christmas (and add their own ideas to the list). Whether it's slow shopping at local markets and charity shops, collecting fir cones with the kids or making outlandish homemade party hats, the guide promises to inject some planet-friendly fun into the Christmas season.  
And the great news is that being more sustainable is better for the budget too. Gift hacks such as a personalised voucher – a night's babysitting or a garden makeover – are plastic-free and only cost time, not money.
Chief Elf and Chair of the Herefordshire Climate and Nature Partnership Board, Cllr Ellie Chowns, said: "The key message is that being green doesn't mean taking the magic out of Christmas – quite the opposite! We live in a consumer society and it's easy to feel under pressure to get the latest gadgets and spend, spend, spend. We want to encourage people to focus on experiences, not 'stuff' and normalise the idea that if you want to buy gifts, second hand is totally ok! Another great option is an edible gift – we have such a fantastic range of food and drink here in Herefordshire, it's the perfect way to reduce food miles and support local retailers and producers. I hope people will take inspiration from the guide and we'd also encourage them to get involved on Facebook and share their own tips and ideas."
The greener Christmas guide is the fifth in a series of 'Carbon Workout Guides' which equip people in Herefordshire with a range of practical information on how to reduce their carbon footprints. The guides have been produced as part of the Herefordshire Greener Footprints Campaign, an initiative spearheaded by the Herefordshire Climate and Nature Partnership Board and supported by the council – all working towards a thriving zero-carbon and nature rich county by 2030.
Look out for festive tips and information on Facebook every day during December and would love to hear ideas from local people and businesses. Follow and comment at facebook.com/greenerfootprintsherefordshire