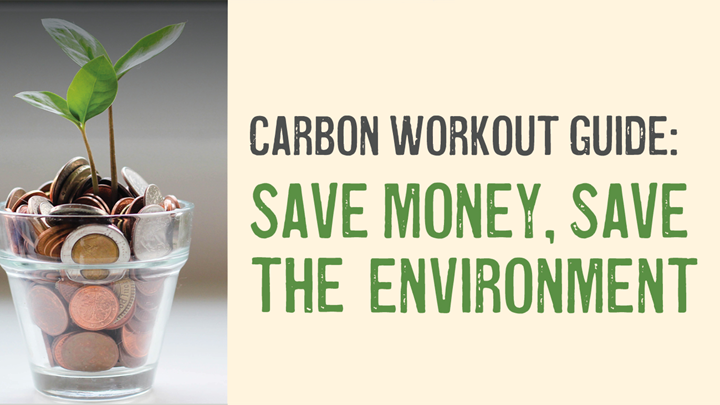 How to save money by going green: new guide launched
Tuesday 17 May 2022 5.31pm
A new 'Carbon Workout' guide has been launched as part of the Herefordshire Greener Footprints campaign to help local people save money, while doing their bit for the environment at the same time.
With spiralling energy bills, rising food prices and costs at the pumps at an all-time high, many people in Herefordshire are starting to feel the pressure on their household budgets. The good news is that living more sustainably doesn't have to be expensive – in fact, making green lifestyle changes can save thousands of pounds a year, while also protecting the planet.
The guide reveals how some simple actions requiring minimum effort, such as shopping second hand or making small home energy improvements, can help the environment while producing significant savings. When combined with bigger changes such as using a car club or cycle to work scheme, the benefits really add up.
The guide is part of a series of 'Carbon Workout Guides' which equip Herefordians with a range of practical information on how to reduce their carbon footprints. The guides have been produced as part of the Herefordshire Greener Footprints Campaign, an initiative spearheaded by the Herefordshire Climate and Nature Partnership Board and supported by the council – all working towards a thriving zero-carbon and nature rich county by 2030.
Cllr Ellie Chowns, chair of the Climate and Nature Partnership Board, said: "I think there is a common misconception that being 'green' is all about buying expensive organic produce and is only available to those who can afford it. In fact, there are lots of changes you can make, such as simply washing your clothes at a lower temperature, that are great for the planet and your pocket. As we've seen in the news recently, taking action on the climate – while keeping a lid on household spending – is now more pressing than ever. I would definitely encourage people to download the guide and see what they can do."
Bernadette Muldowney, Project Manager at Keep Herefordshire Warm, said: "Energy prices have increased dramatically this month and in Herefordshire a whopping 16.8% of households are already living in fuel poverty. We expect to see this number continue to rise, so we'd urge people to consider installing home energy efficiency measures as well as keep an eye on simple things like turning off lights when you leave a room – reducing energy use is now the only way to reduce your bill, and it helps cut emissions too."
In many cases there is grant funding available to help with the upfront costs of home energy improvements – Herefordians can call Keep Herefordshire Warm for free on 0800 677 1432 to check if they are eligible, or visit www.keepherefordshirewarm.co.uk for more tips and advice.