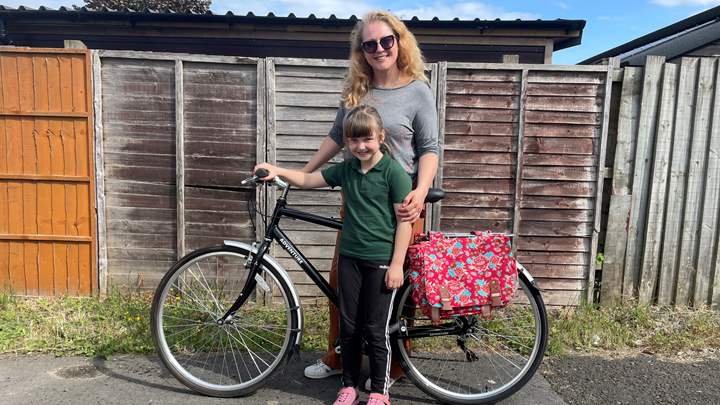 Small steps (and cycle rides) can make the biggest difference...
Wednesday 2 August 2023 2.38pm
During the county's first Greener Footprints Week in June, everyone who made a pledge to help the environment was entered into a grand prize draw to win a bike, and the first one has been picked up and cycled away by Llangrove's Lucy Hoare, pictured here with her daughter Greta. 
"We cycle together as a family, but my bike is over 20 years old so was delighted to win this prize," says Lucy. 
The campaign, launched last year and led by Herefordshire Climate and Nature Partnership, knows even a small shift or nudge to the system (like buying from a green business, insulating your home or cutting food waste) can drive change, and its Greener Footprints #pledgefortheplanet initiative aims to inspire everyone in the county to commit to make one small step or change to help. 
Lucy's pledges covered everything from joining the local Stop the Drop clean-up group to unplugging all the unused charges and switching off electricals rather than leaving them on standby,  buying second hand clothes to reorganising her fridge and freezer to avoid food waste. "I think it's important to do what you can. It's not all or nothing," says Lucy.