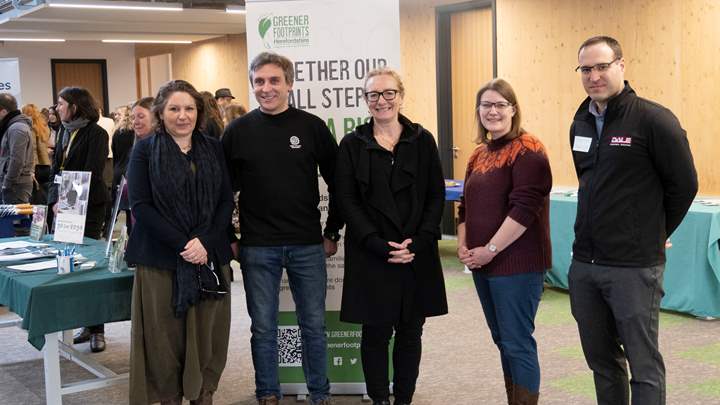 Conference brings together county's climate ambassadors to drive progress to net zero
Tuesday 24 January 2023 9.05am
Organisations from across the county came together at the Business Energy and Climate conference at NMITE on Wednesday 18 January to discuss the progress on Herefordshire's journey to Net Zero, the challenges we face, and to share ideas - inspiring, practical and proactive ideas - to meet them. 
Over 75 delegates met at the Skylon Park campus for the conference which was organised by our Climate and Nature Partnership Board and chaired by Gordon Coppock, a Board member, and featured a keynote speech from clean power innovator Juliet Davenport OBE who is President of the Energy Institute and author of The Green Start-Up. She was joined at the podium by some of those who've signed up for 30 for 2030 – the business initiative playing a key role in the county's growing Greener Footprints campaign – who shared their own stories, ideas, challenges and results.
"When you hear how organisations in Herefordshire are making changes, it is inspirational, informative and helps people explore what's possible within their own business," Juliet Davenport told us. And she talked to the conference about the power of education and training to deliver workforces that are knowledgeable about climate and sustainability, and the power of consumer action in driving change – and what businesses might do to both embrace and empower that as they promote their own products and services.
The speeches that followed were equally inspirational. Merry Albright, Creative Director of Border Oak Design, had the conference talking about how sustainable homes could and should play a key part in house building. Claire Spicer, Head of Conservation at Herefordshire Wildlife Trust, mapped out how the area will be transformed by the Rotherwas Heritage and Nature Trail, and Justin Price, SHEQ Manager at Frank H Dale, shared how the steel company has reduced carbon output by 25 per cent and are looking to achieve a 57 per cent reduction by 2035.
Vernon Amor from Wye Valley Brewery was able to report how while the beer they've sold increased from nearly 26,000 barrels in 2012 to over 51,000 in 2022, the sustainable initiatives they've introduced has supported an overall reduction in their electricity consumption in the same period, and a 40 percent fall in CO2 emissions "We have all made a commitment to a more sustainable future for our businesses," he told us. "It was a real meeting of minds as we exchanged ideas." 
Businesses were signing up to take advantage of the networking and training opportunities of our 30 for 2030 initiative along with the free business energy audit which is now on offer to members of this group.  
To find out more about joining the initiative and get your business to net zero.
Photo credit: NMITE