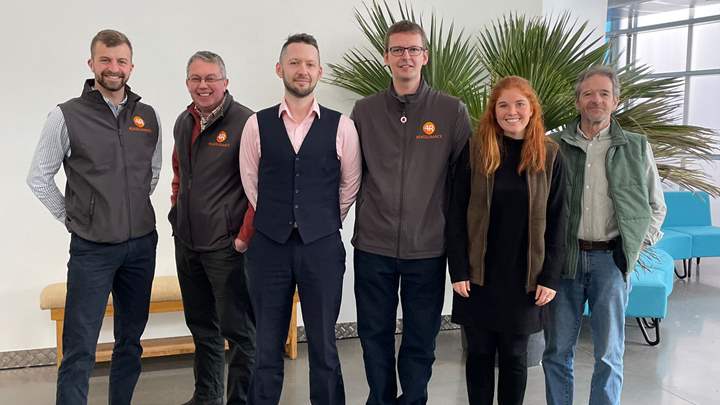 First of 30 farm carbon audits takes place
Friday 3 March 2023 12.18pm
The first carbon audit has taken place at a Herefordshire farm this week as part of the county's drive to reach net zero by 2030.
The audit, which was funded by Herefordshire Council's Climate Reserve as part of the Greener Footprints campaign, took place on the Hereford Estate on Thursday 2 March. It was well received by the farm manager, who commented that the process had been "much easier than expected".
In total 30 farm carbon audits are being undertaken at farms across Herefordshire which were selected following an open 'Expression of Interest' process in partnership with the NFU and Farm Herefordshire. The audits are being carried out by independent consultants 4R Reassurance and will all take place between March and June 2023 with a follow up audit between January and June 2026.
Cllr Ellie Chowns, outgoing Chair of the Herefordshire Climate and Nature Partnership Board, said: "Herefordshire is the most rural county in the West Midlands and farming is a major part of our local economy and culture. Farmers have a really important role to play in tackling the climate crisis as farming is one of the few industries that can capture as well as emit carbon. We're really committed to working closely with the farming community and enabling farmers to unlock the cost-saving benefits of sustainable farming methods. It's exciting to see the first audits underway this week and we hope it will make a real difference."
The audits will help farmers understand the carbon footprint of their farms, including both direct emissions from activities such as livestock production and fuel use, and indirect emissions from purchased inputs such as fertilisers and energy. This will help identify opportunities to reduce emissions and increase the farm's overall efficiency, potentially leading to cost savings and improved business profitability – as well as helping to tackle climate change.
This project is part of the Herefordshire Climate and Nature Board's strategy to help Herefordshire reach net zero by 2030.