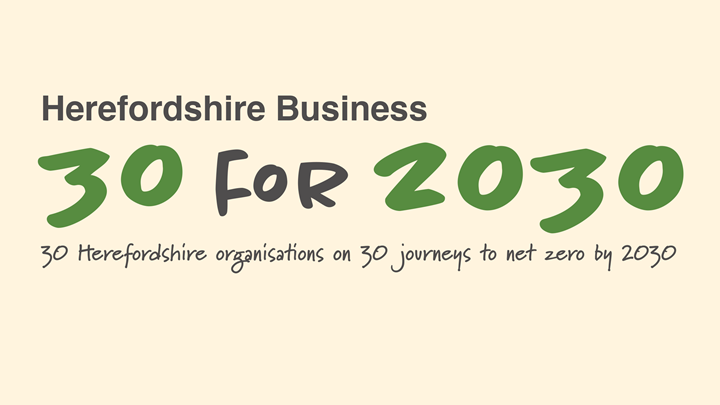 Herefordshire businesses step up to climate challenge
Thursday 12 May 2022 2.43pm
Within just weeks of its launch, more than ten businesses have already come forward to join the Greener Footprints '30 for 2030' campaign, helping to lead the way towards a low-carbon nature-rich Herefordshire.
The '30 for 2030' initiative puts the spotlight on 30 employers from the private, public and third sectors, tracking their progress towards the county's zero carbon ambitions by the end of the decade. The businesses will share the successes and challenges of their sustainability journeys with the aim of inspiring other local organisations to take positive action.
The businesses already on board represent a wide range of sectors and locations across the county and between them employ over 400 people. From a mixed farm in the Wye Valley to a home care service in Hereford to an antique lighting supplier in Ross on Wye – the initiative is already reflecting the incredible diversity, entrepreneurship, and ambition of the Herefordshire business community.
While some of the organisations involved have already been working to reduce their carbon footprint for several years, others have seized the opportunity to join the 30 for 2030 initiative as the first step on their net zero journey.
Hereford-based producer of flexible packaging, Alfaplas, was one of the first businesses to sign up. Alfaplas has been trading for over 40 years and currently employs around 90 people on the Rotherwas Industrial Estate. Its carbon reduction plan will build on the success of previous measures such as the introduction of a waste processing machine that turns scrap waste back into usable pellets that can be reused in production.
Compliance Manager, Huw Lewis, said: "We have a long-held commitment to maintaining high environmental standards and achieved the British Standard for environmental management several years ago. However, we hadn't previously measured our impact in terms of our carbon footprint – joining the 30 for 2030 has really helped galvanise us to focus specifically on carbon reduction for the first time and we are looking forward to sharing our net zero journey."
Family-run Certainly Wood is another local business that was quick to get on board. Supplying British kiln-dried logs along with kindling and natural firelighters, the business is based just west of Hereford and employs up to 25 people during peak periods. Certainly Wood is already taking steps to reduce plastic packaging and offers a scheme to allow customers to plant a tree as part of their order.
Nic Snell, Managing Director of Certainly Wood, said: "We are passionate about the environment and nature so we are really pleased to see people and organisations across Herefordshire coming together to take action. As a business we have recently reviewed our carbon footprint and are very keen to work hard towards our longer term goal of achieving as near to net zero as possible. Joining the '30 for 2030' was the perfect way to commit ourselves to that target and inspire the whole company to get behind more sustainable working practices."
The Courtyard Arts Centre in Hereford was also amongst the first businesses to come forward. In 2018 The Courtyard joined forces with other arts and cultural organisations in the UK and Herefordshire Council to declare a Climate and Ecological Emergency and has been working on reducing its carbon footprint since then. Measures include operating a zero waste to landfill policy, rolling out green riders to visiting companies and installing Smart Water Management Systems across the building.
"The Courtyard already has a working Eco Group and Environmental Action Plan with an ambitious target to be net zero by 2030, so it makes perfect sense to pool our resources with other local businesses and align our goals and objectives with the Greener Footprints campaign." says Courtyard Operations Manager, Phillip Pearcy. "We're hugely excited to be part of the initiative as we understand how important it is for all businesses to use their platforms to generate awareness of climate change."
The 30 for 2030 initiative forms part of the Herefordshire Greener Footprints campaign which was launched by the Herefordshire Climate and Nature Action Partnership in January 2022. Its aim is to create a movement of positive action amongst individuals, communities, and organisations across Herefordshire to counter climate change and ensure a future for the county that we all want. The '30 for 2030' initiative has the support of the Herefordshire and Worcester Chamber of Commerce and Herefordshire Rural Hub
Cllr Ellie Chowns, chair of the Climate and Nature Partnership Board, said: "It's clear that the need for action on climate change is becoming more urgent than ever. Here in Herefordshire we have set ourselves the ambitious target of achieving net zero by 2030. It's a big challenge and it's really heartening to see such a wide range of local businesses already grappling with reducing carbon and showing their commitment to making meaningful change. Business has a really important role to play in tackling the climate emergency and I hope the ambition and vision shown by the businesses which have come forward will inspire others to follow their lead."
The '30 for 2030' initiative provides organisations with a focus and stimulus for their plans to reach net zero, as well as creating a platform to engage with customers, staff and suppliers on green issues. Joining the '30' will benefit the businesses involved by creating a community of good practice, as well as enhancing their reputations.
The initiative is open to businesses, public sector organisations and charities across Herefordshire and there is still time to apply. For more information on getting involved, interested organisations can download an information pack.