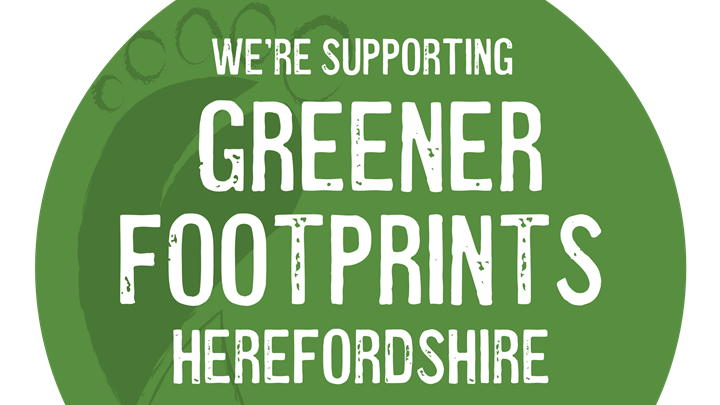 Journey to net zero: Herefordshire driving school is latest to sign the Greener Footprints pledge
Thursday 12 May 2022 3.31pm
Hereford-based learner driving school WyeDrive has signed up to take the journey to net zero, as part of the county's Greener Footprints campaign. 
WyeDrive is on course to reduce its carbon footprint by 13 tonnes a year with the purchase of two new electric vehicles (EVs) in May to replace one petrol and one diesel car. This will make over 20% of the school's fleet electric, giving new drivers the chance to learn in environmentally-friendly EVs from the word go.
Business owner Craig Preedy said: "Some customers are very excited and our new learners starting in May are really looking forward to driving an EV. We think the switch will be beneficial from a driving point of view and for our business – we expect to see a 66% drop in the amount per year we pay in fuel."
In addition to signing the Greener Footprints pledge WyeDrive has also signed up to participate in the campaign's '30 for 2030' initiative, which involves 30 organisations sharing their carbon net zero journeys by promoting what they and their work colleagues are doing and achieving to reduce their carbon footprint.
Craig added: "Reading others' stories will encourage people to make changes themselves, especially if they see that these changes can benefit their pockets and the environment.
"Businesses won't want to lose out, especially if customers ask for change – they will want a slice of the action. We were receiving more requests for automatic lessons and we also realized we were driving gas guzzlers. We want to be leaders rather than followers and so we decided to look at EVs."
Although there is still a demand for manual car lessons at the moment, another of WyeDrive's instructors is planning to shift to an EV later this year and Craig hopes the team can make a full switch to electric in future – as well as inspiring other driving schools and businesses to do the same.
Cllr Ellie Chowns, chair of the Climate and Nature Partnership Board, said: "I'm delighted that WyeDrive has come forward to support the campaign and we are really looking forward to showcasing their progress towards net zero in the coming years. Transport is one of the major sectors that produce carbon so it is great to see a business leading the way in doing things differently.
"I would strongly encourage other local organisations to consider taking part in this campaign – it's a great way to bring employees, customers and suppliers on board with reducing carbon; it's good for reputation and can benefit your bottom line too."
Find out more about how your business can get involved in 30 for 2030