Waste challenges and solutions
The challenge
What we do about waste has a major impact on our environment. Cutting down on the amount of waste produced, reducing our use of natural resources, recycling and composting materials and recovering energy from those we can no longer use is a vital part of reaching net zeroBalancing the amount of emitted greenhouse gases with the equivalent emission that are either offset or sequestered. carbon emissionsEmissions are any release of gases..
75,000 tonnes of household waste is generated in the County every year. This has fallen from 92,000 tonnes in 2002 showing a decline of 18%.

41% is sent for recycling and composting which compares unfavourably with the highest performing local authorities who achieve recycling rates of around 60%.

Even with the opening of an Energy from Waste facility in 2017, up to 20% of Herefordshire's waste continues to be sent to landfill.
The solutions
The National Resources and Waste Strategy 2018 sets out how we will preserve our stock of material resources by minimising waste and promoting resource efficiency.
The strategy outlines a package of measures to bring about a more sustainable circular economyA circular economy is an alternative to a traditional linear economy (make, use, dispose) in which we keep resources in use for as long as possible, extract the maximum value from them while in use, then recover and regenerate products and materials at the end of each service life.:
Extended producer responsibility (companies that put products on the market should be responsible for the full lifecycle of those products and packaging. By making them responsible, they have more incentive to make less waste, and to recycle more)
Deposit return schemes
Consistent recycling collections
Weekly food waste collection
Improved product packaging design and labelling
A sustainable circular economy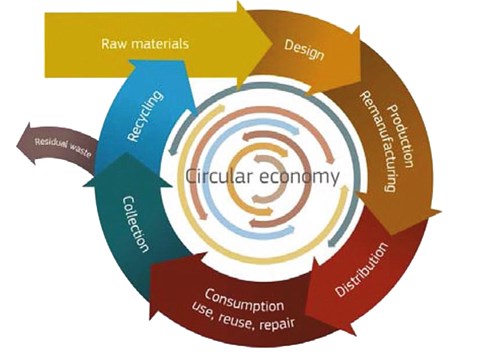 The national targets are:
65% recycling rate for municipal (household and commercial) solid waste (2035)
Municipal waste to landfill 10% or less (2035)
In view of future national policy Herefordshire Council undertook a public consultation (Dec 2019 – Feb 2021) on its review of its domestic and commercial waste service from 2023 onwards. The review will inform the future of our waste collection and disposal services.
Potential key areas of focus for waste
Waste reduction to landfill
Divert waste from landfill through reuse
Expand capacity of Energy from Waste plant
Identify areas of excess waste
Education and enforcement
Reuse
Provide new council services
Work with social community sectors
Develop an online reuse directory
Recycling
Increase quality of materials collected
Encourage use of recycling services and deposit return schemes
Explore the potential to collect more materials
Composting
Separate garden waste collection services
Potential home and community composting schemes
Food waste
Provide a weekly food waste collection
Develop and promote food waste reduction campaigns
Business waste
Businesses are able to access funding, advice and information to reduce their waste.
Community/partnership working
Encourage and promote community group recycling and waste reduction projects
Production of online information resources
Engagement with residents, community, schools and businesses
Campaigns
Develop targeted campaigns, for example on food waste and the reduction of single-use plastics
Reducing emissions in waste is complex and will need to involve a wide range of stakeholders including businesses, community groups, schools, public services and Herefordshire's residents.
Read our Action Plan for details of our planned actions over the next few years